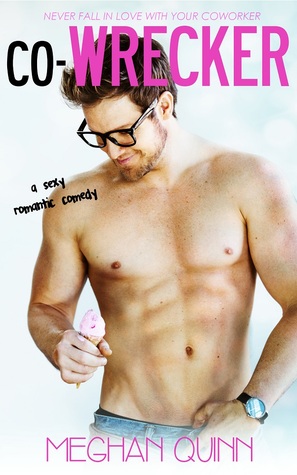 Co-Wrecker by Meghan Quinn
on March 17th 2017
Genres: New Adult, Contemporary Romance, Rom-Com
Pages: 368
Format: eARC
Source: Publisher
Amazon US
Goodreads

What do ice cream and Sadie Montgomery have in common? They're both ice cold, but one taste is never enough.

I wanted to be friends — I would have even settled for her seeing me as anything but a nerd — but there was no getting through. So just like any hard-headed, red-blooded man out there, I made up my mind.

I'd make my coworker fall for me.

I'd like to say it was simple, but like every other epic love story, all it took was one drunken night and a lot of naked courage to get the girl. For a moment, at least.

Love with a coworker is never simple, especially since Sadie's trying to keep us on the low. Not to mention her persistent ex-boyfriend who won't leave her alone. But I've never been good at giving up, and I don't plan to start now.

The whole thing is a recipe for a rocky road, but I plan to eat the whole gallon, no matter how bad the brain freeze.
This book may be unsuitable for people under 18 years of age due to its use of sexual content, drug and alcohol use, and/or violence.
I received this book for free in exchange for an honest review. This does not affect my opinion of the book or the content of my review.
I am in love with the hero! I love an alpha as much as the next girl does, but there's just something about an adorable, sweet, nerdy guy like Andrew that makes me grin and swoon.