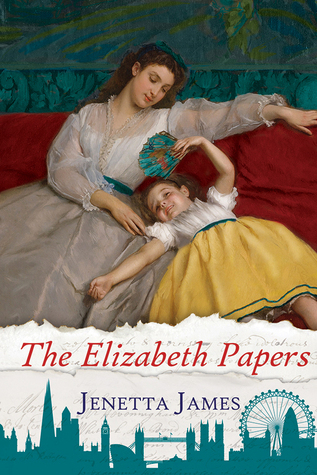 The Elizabeth Papers

by Jenetta James
Published by Meryton Press on May 29th 2016
Genres: JAFF, Contemporary Romance, Historical Romance
Pages: 229
Format: Paperback
Source: via Author
Amazon US
Goodreads

"It is settled between us already, that we are to be the happiest couple in the world," said Elizabeth Bennet at the conclusion of "Pride & Prejudice"—but was it true?

Charlie Haywood is a London-based private investigator who has made his own fortune—on his own terms. Charming, cynical, and promiscuous, he never expected to be attracted to Evie Pemberton, an independent-minded artist living with the aftermath of tragedy. But when he is hired to investigate her claims to a one hundred and fifty year old trust belonging to the eminent Darcy family, he is captivated.

Together they become entwined in a Regency tale of love, loss, and mystery tracing back to the grand estate of Pemberley, home to Evie's nineteenth century ancestors, Fitzwilliam and Elizabeth Darcy. As if travelling back in time, a story unfolds within their story. All was not as it seemed in the private lives of Mr. and Mrs. Darcy, but how can they ever uncover the whole truth?

How could they know that in 1817 Elizabeth Darcy began a secret journal? What started as an account of a blissful life came to reflect a growing unease. Was the Darcy marriage perfect or was there betrayal and deception at its heart?

Can Evie and Charlie unearth the truth in the letters of Fitzwilliam Darcy or within the walls of present-day Pemberley? What are the elusive Elizabeth papers and why did Elizabeth herself want them destroyed?

"The Elizabeth Papers" is a tale of romance and intrigue, spanning the Regency and modern eras, reminding us how the passions of the past may inspire those in the present.
I received this book for free in exchange for an honest review. This does not affect my opinion of the book or the content of my review.
What a lovely novel! I don't usually read Pride and Prejudice stories that take place after the canon, but the intrigue of the blurb called to me. I'm so happy I got the chance to read this book because it was amazing! I devoured the whole book and was engaged from start to finish.