Hot Stuff

by Kim Karr
on September 27th, 2017
Genres: Adult, Contemporary Romance
Pages: 326
Format: eARC
Source: Blog Tour Host
Amazon US
Goodreads

He's the newly drafted star quarterback.Hot. Arrogant. Too sexy for words. And ready to score.
She's the new intern, and the coach's daughter.Driven. Determined. Ready to conquer the world.And completely off-limits.
This is the NFL.A place where adrenaline runs high and rules aren't meant to broken.Are you ready for some football?It has never been SEXIER.
This book may be unsuitable for people under 18 years of age due to its use of sexual content, drug and alcohol use, and/or violence.
I received this book for free in exchange for an honest review. This does not affect my opinion of the book or the content of my review.
Kim Karr is back with a new steamy sports romance starring Lucas Carrington, the new quarterback of the Chicago Bears, and Gillian Whitney, an athletic trainer intern and the daughter of the coach.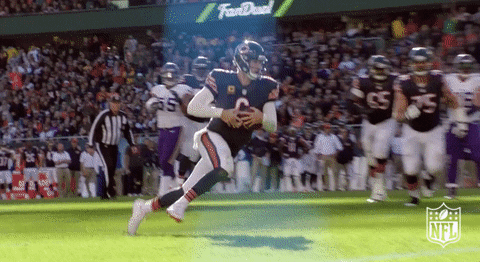 Lucas Carrington wants to leave Chicago and never look back, but that plan turns to dust when the Chicago Bears picks him in the drafts as their first string quarterback. When he goes to training camp, still feeling a little bitter, he realizes his position isn't as secure as he thought. He needs to stay in top shape, step up his game and have a change of attitude if he wants to become an official member of the team.
When the gorgeous woman he's flirting with literally knocks him off his feet (with a water cart), he's worried it would ruin his chances even more. It's a good thing she's trained to help him get better. It's just too bad she's actually the coach's beloved daughter.
Gillian Whitney is back in the Chicago Bears' training camp for the last time before she graduates and moves on to work in a different facility. Her last year proves to be interesting when she ends up injuring the new star quarterback with her water cart because she was too busy ogling him. She knows she can't entertain him and her desire to get to know him, but there's just something about Lucas Carrington she can't resist.
They know what's at risk and know they'll go their separate ways after training camp, so they agree to have fun until she leaves. But sneaking around and praying no one catches them isn't the only thing making their no-strings agreement complicated. As they spend more time together and open up to each other, they're wondering if they should end it after Gillian leaves or try and become something more.
Wow. I swear the sexual tension between Gillian and Lucas seeped through the pages of this book! My heart was beating so fast during their tango of "will we or won't we", and it doubled when they finally hit touchdown. *wink wink*. We have two strong characters both determined to succeed in their careers and devoted to the people who made them who they are find their way to each other. It was sweet to see them bond over their mutual love of football and hot to see them sneaking around and enjoying each other's company (among other things, heh)
I think this was the first sports romance I've read where the author discussed the technicalities of football and its behind-the-scenes, and personally, I absolutely loved it. I know little about American Football (it's not as popular as futbol here in the Philippines), so it was interesting to read what goes on at training camps, how many coaches are needed, and many more.
I loved seeing them both grow as characters and become better persons than they were when they first started. To see Lucas let go of his hang ups, for Gillian to realize what she really wants, and for them to find their way back to each other.
Although I have to admit it frustrated me that the men in Gillian's life disregarded her opinion and made their own decisions for her and her happiness based on what they think she wants. I know Lucas and her dad means well, but I wish they actually listened to her.
The story has its fair share of angst—especially on Gillian and her father's side—but  the story is filled with steam, humor, character growth, and men in uniform. Forbidden romance and sports romance readers will enjoy this sexy new romance from Kim Karr.
Tropes: Sports—American Football, Forbidden Romance, Coach's Daughter
POV: First Person, Dual POV
Standalone: Yes
FREE IN KINDLE UNLIMITED!
Order your copy of Hot Stuff
Amazon US | UK | CA | AU | Paperback

Facebook | Twitter | Instagram | Goodreads
Don't want to miss another post? Subscribe to Of Pens and Pages by e-mail or WordPress.