When We Are Married: A Pride and Prejudice Variation

by Caitlin Williams
on July 21st 2017
Genres: JAFF, Pride and Prejudice, Historical Romance
Pages: 240
Format: eARC
Source: Blog Tour Host
Amazon US
Goodreads

Two sisters, one man. Someone's heart is about to get broken.

Elizabeth Bennet quickly realises she has misjudged Mr Darcy. In Kent, she learns first impressions are not always accurate. His proposal is disastrous, insulting even, but when she reads his letter her heart begins to thaw, and her objections and prejudices start to melt away. Elizabeth decides to offer Mr Darcy a sliver of hope, an apology, and a second chance.

Yet when he begins to call at Gracechurch Street, determined to become a better man and humbled by Elizabeth's reproofs, he unwittingly stirs the romantic hopes of another lady altogether.

Jane Bennet, bereft and confused, rejected by Charles Bingley is fearful of becoming an old maid. She is eager to fall in love with the very first gentleman who takes notice of her, and Mr Darcy's is, after all, everything her mother has wanted for her, rich and handsome, the perfect suitor.

Through crowded, industrious Cheapside, to the elegant ballrooms of Mayfair, Mr Darcy chases Elizabeth Bennet, unaware that the quiet unassuming girl who smiles too much, is fully intent on chasing him.
I received this book for free in exchange for an honest review. This does not affect my opinion of the book or the content of my review.
When We Are Married is a wonderfully weaved story filled with misunderstandings, some angst and drama, and interactions getting sweeter each meeting. A sister desperate for marriage, an aunt who misunderstood, another aunt who did nothing but scheme, a woman with a change of heart, and a man who will go anywhere and do anything to win the heart of his heart's desire.
I confess I was reluctant to read this book when I first heard about it since I'm not usually a fan of love triangles. But I rarely come across a book where Jane was written as Elizabeth adversary, so I was intrigued to see how Ms. Williams will write it. Will I hate Jane or feel bad for her?
Now I know my reluctance was all for naught. I was already smiling a few pages in, and although there were times I wanted to push Jane away (I'm a steadfast Elizabeth-Mr. Darcy supporter and wish for nothing but their happy ending), I couldn't find it in me to hate her at all. In this story, we get to see more of the eldest Bennet daughter, who she really is, how her mother and society has affected her, and what she thinks of beauty, marriage, and her smart and witty sister Elizabeth.
Jane is not the only obstacle in Elizabeth and Mr. Darcy's happily ever after. I think a P&P story would not be complete without Lady Catherine and her meddling ways. Aunt Gardiner is here too with her own misconceptions of Elizabeth and Colonel Fitzwilliam's relationship. Plus Georgiana, the Fitzwilliams, a Mrs. Carmichael, and a pug who will definitely leave an impression.
You are probably wondering how Mr. Darcy and Elizabeth are interacting, what with the distractions and all. Heartwarming and swoon-worthy, that's for sure. We have a Mr. Darcy fueled by renewed hope and ardent devotion, and an Elizabeth who is finally seeing him for the man he truly is. I love them, Darcy especially. I've always loved that man, but I loved him even more when he's pursuing Elizabeth the way he was in this story.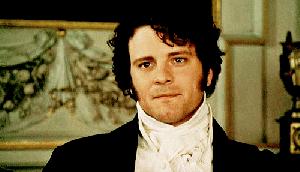 And one more thing, the title is perfect! Absolutely perfect. I giggle and swoon every time I think about it. To avoid spoiling you, I can only say it has something to do with Mr. Darcy. That man, I swear. Ruining other men for women since 1813.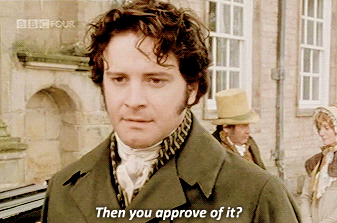 Indeed I do, Mr. Darcy. I highly approve of it.
When We Are Married was such a delight to read! The story was fresh yet still so familiar, and it had the right amount of angst and sweet moments in between. I highly recommend this to Pride and Prejudice fans and historical romance fans alike.
Here's another Mr. Darcy gif (this time of dear Matthew Macfadyen) because honestly, I can't get enough of him.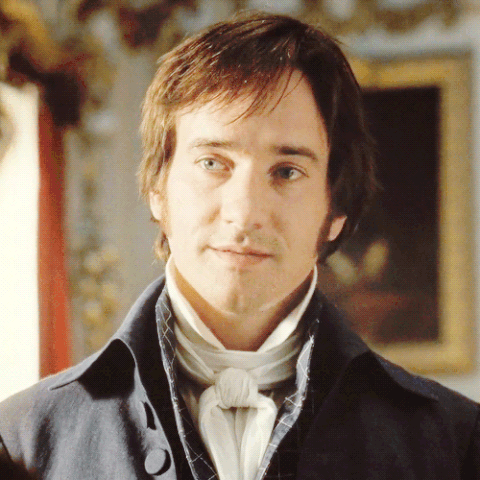 Tropes: Pride and Prejudice, Hate to Love
POV: Third POV
FREE ON KINDLE UNLIMITED
Order your copy of When We Are Married
Amazon US | UK
For a chance to win an ebook of When We Are Married, simply post a comment below. Giveaway is open internationally and will run until July 31st, 2017, 8AM EST.
This blog tour would not be possible without Claudine Pepe of JustJane1813 and Caitlin Williams. Thank you for inviting me and introducing me to another lovely Pride and Prejudice variation! 
July 21 Austenesque Reviews / Guest Post Launch & Giveaway
July 22 Of Pens & Pages / Book Review & Giveaway (this is me!)
July 23 Just Jane 1813 / Book Review & Giveaway
July 24 More Agreeably Engaged /  Book Review & Giveaway
July 25 My Vices & Weaknesses / Excerpt Post & Giveaway
July 26 Babblings of a Bookworm / Book Review & Giveaway
July 27 From Pemberley to Milton / Book Review & Giveaway
Facebook | Twitter | Instagram | Goodreads
Don't want to miss another post? Subscribe to Of Pens and Pages by e-mail or WordPress.