Rocked Up

by Karina Halle, Scott MacKenzie
on May 17th 2017
Genres: Contemporary Romance
Pages: 253
Format: eARC
Source: Publisher
Amazon US
Goodreads

Rocked Up is a STANDALONE rockstar romantic comedy and the fun and sexy brainchild of New York Times bestselling author Karina Halle and her husband Scott Mackenzie.

I have been watching him since I was a child.

He didn't notice me back then and it didn't matter. Brad Snyder, guitarist and singer for one of the world's greatest bands, was my entire life.

My father, the CEO of Ramsey Records, takes credit for all of Brad's success, trying to control him in the same way he's controlled me.

But I finally get an opportunity to prove myself.

To be wild.

To be free.

Today I'm auditioning to be the replacement bass player for Brad's band. If I get the job, I'll go on tour and work with Brad every day, in very close proximity.

There's only one rule: he's not allowed to touch the boss's daughter.

Remember when I said that Brad never used to notice little ol' me?

Well, Brad's noticing me now.

In a way that's going to get us both in trouble.

My name is Lael Ramsey and we all know how this will turn out.
This book may be unsuitable for people under 18 years of age due to its use of sexual content, drug and alcohol use, and/or violence.
I received this book for free in exchange for an honest review. This does not affect my opinion of the book or the content of my review.
Rocked Up is a fun, sizzling, and romantic standalone novel about a rock star with a tragic past and a girl trying to break free. This book, told in alternating POVs, is the first collaboration between author Karina Halle and her husband Scott MacKenzie.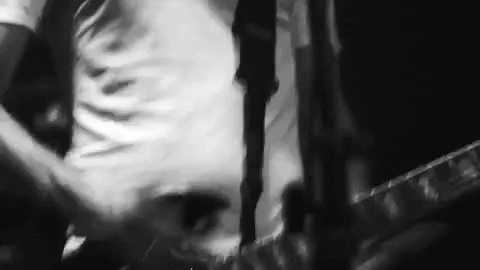 Lael Ramsey, daughter of the man behind Ramsey Records, has been in love with Brad Snyder, the lead singer of one of Ramsey Record's biggest rock bands, since she was fourteen. Seven years later, a chance of a lifetime appears when And Then's bassist gets fired.
Lael auditions and becomes the band's newest bass player, and she joins them on their tour around the country. Ronald Ramsey, her father, has made it clear that she is off limits to the band, but Lael and Brad have a connection that's hard to resist. They have to keep their budding relationship a secret or else Ronald might ruin not just Lael's chance of reaching her dream, but everything Brad worked hard for.
My favorite part about this book is Lael and Brad's passion for music and the connection they've made because of it. It was written so vividly that I could see it so clearly in the back of my head. Their passion and personal battles ignited a spark and a connection they can't shake off.
I loved Lael's carefree attitude and her teal hair and amazing skills in the bass guitar. She was such a genuine person, living life and trying to do her best to make her dreams come true. I wish I was as confident as her when I was her age.
Personally, I wouldn't call this book a romantic comedy. It had its fair share of humor but there was more angst in the story. In between the fun and the sexy, the story shows us Brad's past and what life was like for him before he became a rock star.
While the pacing was nice and steady in the first half of the book, the second half felt rushed, especially the conflict and resolution. There were some scenes that either confused me or made me feel like it wasn't enough—anything involving Lael's father, to name one.
Overall, I still enjoyed Rocked Up. I think the ending made up for the few chapters before it, and I honestly believe Brad and Lael's endings were perfect for them. It left me swooning and smiling so hard! I was filled with happiness and satisfaction that these two people who have suffered a lot, Brad especially, have found the happily ever afters of their story arcs together.
It wasn't the best rock star book out there, but it's still enjoyable. There was great chemistry, an in-depth look at the music industry and what it's like to be a rock star, and nice banter between the characters. I think most fans of rock star romances will have a great time reading Rocked Up.
Order your copy of Rocked Up
Amazon US | UK | B&N | Kobo | iBooks
Facebook | Twitter | Instagram | Goodreads
Don't want to miss another post? Subscribe to Of Pens and Pages by e-mail.