Playing the Player

by Lisa Brown Roberts
Published by Entangled: Crush on September 14th 2015
Genres: Young Adult, Contemporary Romance
Format: eARC
Amazon US
Goodreads

The Good Girl Vs. The PlayerRound one begins...
Trina Clemons needed the money. Why else would she - the most organized, prepared student in school - spend the summer as a nanny and partner with the biggest slacker ever? Now she's ready to tackle nannyhood with her big binder of research and schedules. Just don't ask her about the secret job of "fixing" the bad habits of a certain high school player...

Slade Edmunds prefers easy hook-ups, and Trina is definitely not his type. She's all structure and rules, while Slade wants to just have fun. Fortunately, Trina has no idea about the bet Slade made with his best friend that he can totally get her to unwind by the end of summer...
Then the weirdest thing happens. There's chemistry. A lot of it. But nothing gets between a boy and a girl like a big, fat secret...
I received this book for free in exchange for an honest review. This does not affect my opinion of the book or the content of my review.
Giving this a 3.5-4 stars. As a YA reader/lover, I'm giving this a 4, but as a general contemporary romance, I'm giving it a 3.5.
"This feels like a really bad movie," I said. "One where you just know everything's going to blow up in a huge mess at the end."
Trina Clemons has her job as a babysitter to adorable five-year olds Max and Gillian, but she's also stuck to mentor the school slacker/player, Slade Edmunds in the guise of a nannying partnership. She'd rather spend her time doing something else, but Slade's mom is paying additional and she needs the money.
She's not expecting the best, but she believes she can resist his charm; he's never been exactly nice to her anyway. She still can't forget the fact that he gave her the nickname 'Bird Brain' when she was advocating to save the tree with the hawks. And Slade Edmunds isn't the biggest fan of Trina either. He thinks she's uptight and 100% serious with her binders and organizational skills. 
Two seemingly opposite kids, who have bad impressions on each other, have more in common than they first thought. After a disastrous nannying day that ended with two crying toddlers and one crying nanny, the two start anew to make their "partnership" work. They actually get along, and soon they both realize they feel an attraction that's getting hard to resist.
The achiever and the school player, one with a tragic backstory, misunderstandings, plus secrets and constant denial of feelings. This alternating POV is as cliche as it sounds, but it's what I loved about this book the most! It reminded me of the books I used to read in high school where I'd end up giddy and giggly and feel like a teenager. 
As the story progressed, we got to see more about Trina and Slade and a little bit of side characters like Desi and Alex, Trina and Slade's best friends. Max and Gillian mirrored our two nannies, but these two tykes got along perfectly from the beginning 'til the end.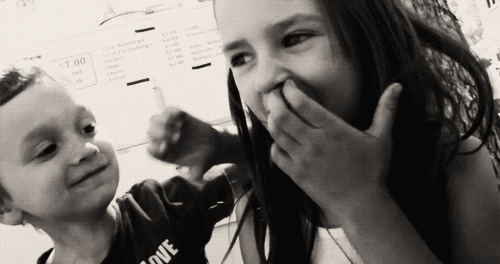 I have to say though, the end felt a bit rushed, and it was quite noticeable since the pace from start to somewhere near the end was quite steady compared to the end. I was close to panicking when I was in the 80% mark and the conflict hasn't been properly addressed. 
But overall, I really enjoyed this story. It's light, sweet, and cute. I might read it again when I'm in the mood for a light fluffly YA novel. If you're a fan of that kind of YA and stories where opposites attract, you might enjoy this book.
Facebook | Twitter | Instagram | Goodreads
Don't want to miss another post? Subscribe to Of Pens and Pages by e-mail.