Something About You

by Julie James
Series: FBI/US Attorney #1
Published by Berkley Sensation on March 2nd 2010
Genres: Adult, Contemporary Romance, Suspense
Pages: 307
Source: Purchased
Amazon US
Goodreads

Fate has thrown two sworn enemies...
Of all the hotel rooms rented by all the adulterous politicians in Chicago, female Assistant U.S. Attorney Cameron Lynde had to choose the one next to 1308, where some hot-and-heavy lovemaking ends with a death. And of all the FBI agents in Illinois, it had to be Special Agent Jack Pallas who gets assigned to this high-profile homicide. The same Jack Pallas who still blames Cameron for a botched crackdown three years ago—and for nearly ruining his career.
Into each other's arms...
Work with Cameron Lynde? Are they kidding? Maybe, Jack thinks, this is some kind of welcome-back prank after his stint away from Chicago. But it's no joke; the pair is going to have to put their rocky past behind them and focus on the case at hand. That is, if they can cut back on the razor-sharp jibes—and smother the flame of their sizzling-hot sexual tension.
This book may be unsuitable for people under 18 years of age due to its use of sexual content, drug and alcohol use, and/or violence.
"In all my years with the army and the FBI, there's only been one person I've ever had any problems controlling myself around."
Thank you, Katerina, for recommending this book! I have truly fallen in love with Jack Pallas. But maybe I shouldn't have started this book at 11pm. By the time I reached the climax (double entendre lol), it was 3 am. Not the best time to read about men hiding in your closet, let me tell you. My heart was beating so fast and I was so paranoid I had to turn on the lights!
Sometimes, Assistant U.S. Attorney Cameron Lynde has the most rotten luck. She just wanted to pamper herself in a five-star hotel without becoming a prime witness to a high-profile murder case for a day. Is it too much to ask for?
Now that she got herself involved, she's forced to interact with the one man who humiliated her three years ago because of a dropped drug syndicate case. Tall, dark, and glowering, FBI Special Agent Jack Pallas has no wish to get involved with Cameron, especially since he believes she's the reason he got shipped out from Chicago to Nebraska three years ago. But if they want to clear the senator's name and find the real culprit, he and Cameron will have to work closely together.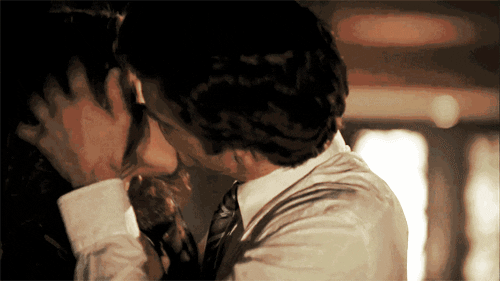 Lot of sexual tension here. The two "hate" each other, but it's pretty obvious that before things went to shit, they had something going on there. Those three years apart have not diminished their palpable chemistry, and now that they have to be in constant communication, they'll try to figure out if they can fight the strong they have over each other.
"What the hell am I supposed to do when you look at me like that?"
To be honest, I'm not that much of a romantic suspense fan since I freak out easily, but damn it, I couldn't put this book down! I had to know who killed Mandy, why he did it, and I wanted to see him and the rat get caught. The culprit's identity is revealed somewhere in the middle of the book, but there's still a suspense factor because we don't know what he'll do once he finds out Cameron's the star witness.
Jack freaking Pallas. Man, I love my male leads tall, dark, handsome, and brooding. Jack is all that. He was a freaking badass undercover agent and he knows how to kill you using a paperclip. He's sassy, has a sense of humor, and he's too damn hot. But I loved how thoughtful he was and how protective and caring and loving and oh my god I can't I have too much feels!
Of course, we can't forget about Cameron. She's an amazing character; a smart, sexy, funny, strong female lead. Her dad was a police who was killed in the line of duty; because of it, she wanted to seek justice by making sure that people like the person who killed her father got the punishment they deserve.
The side characters were lovable, too! I loved Collin and Amy, and adored Jack's partner, Agent Wilkins. Collin and Amy were amazing friends to Cameron, and I loved their loyalty. Agent Wilkins seemed like Jack's total opposite, but it's what made them click. He was the good cop to Jack's bad cop persona.
Julie James writes great rapport between her characters. I love it! That's one of the things I loved about Practice Makes Perfect, and I'm glad I got to see that again in Something About You. She also writes strong female characters who excel in what they do. I love it! Plus, brooding male leads are my kryptonite. Thank you, Julie James.
Damn it, I want more Jack Pallas.

Order your copy of Something About You
Facebook | Twitter | Instagram | Goodreads
Don't want to miss another post? Subscribe to Of Pens and Pages by e-mail.