Frenched
Publication Date: March 16th, 2014
Genre: Contemporary Romance
My Rating:
Heat:

When I got dumped by my stupid fiancé a week before the wedding, my plans involved nothing more than ice cream, a blanket fort, and a bonfire of his possessions.
But my friends convinced me that bitter tastes better drowned in Bordeaux, so I came to Paris for a single-moon.
Then I met him. He's shown me things I've never seen before, and I'm not talking about the Louvre.
Is it just the seduction of Paris? Or could this be the real thing?
Things I loved about Frenched:
1. Lucas
Mia Devine has been living her life one list at a time; spontaneity just doesn't run in her blood. It works just as well since she runs Devine Events, a successful events company. When her fiancé goes cold turkey on her and leaves her seven days before her most prized event––their wedding––she's stuck in their penthouse with their monogrammed pillows, alone, miserable, and drunk.
I'll die an old maid, cold and alone. I won't even have cats because I'm allergic to them."
Now what's she going to do with their Paris honeymoon trip? Her friends think she should still go. Why waste a first-class ticket, a perfectly planned itinerary, and a wonderful hotel over a first-class douchebag (read ex-fiancé)? It's always been her dream to go to Paris, and with everything that's happened, she had every right to fulfill that dream.
So off to Paris she goes.
When she walks around the city on her first day in Paris, she sees couples all around; she even had front row seats to a marriage proposal. That's when she remembers that Paris is not just the city of lights; it's also the city of romance. By the end of the day, Mia was miserable and ready to fly back to the states.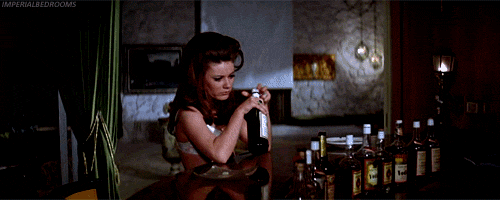 As she wallows in self-pity and good wine in a bar in Paris, the bartender (slash music professor in NYC), Lucas Fournier, tries to convince Mia to give Paris a second chance. One day. He'll show her around Paris for one day, and if she still hates it, then she can fly back home.
Mia has her Paris to-do list, and Lucas isn't in it, but neither is going alone, husband-less. But a day with Lucas makes Mia realize Paris has much much much more (read read orgasm, beautiful sights, and amazing food) to offer.
If there's anyone who can write amazing sex, it's Melanie Harlow. Seriously. I've only read a few of her books, but I am completely sold. Not only does she write great sex, she writes amazing banter and even more amazing male leads.
Lucas Fournier is a dream of a man, and everything he did make me smile. He's a gentleman, he's sweet, he's French, he's perfect. I love him gaah. I can see why Mia fell for him.
Nothing you ask of me is too much."
I'm not usually a fan of insta-love, and although it sometimes made me uncomfortable that Mia and Lucas fell in love with each other within the span of that Paris trip, it wasn't what made me give this book 3.5 stars.
Mia's always wanted marriage, but Lucas didn't. That's the main reason why Mia didn't want to give Lucas a chance. She loves him, and she's expecting him to promise her forever when they've only known each other for less than a month. I almost wanted to smack Mia. Coco, her best friend, pretty much summed up how I felt about it.
.
..Stop it with the projections and the fucking lists. I think he deserves a little more faith. I think you should give him a chance. After all, maybe you won't even want to marry him after dating for a while. How can you know for certain how you'll feel in the future?"
The book is light, sexy, and fun, and I laughed and smiled throughout the quick read. If you're a fan of whirlwind romances and sexy lead males, then you should definitely read Frenched!
Purchase your copy of Frenched