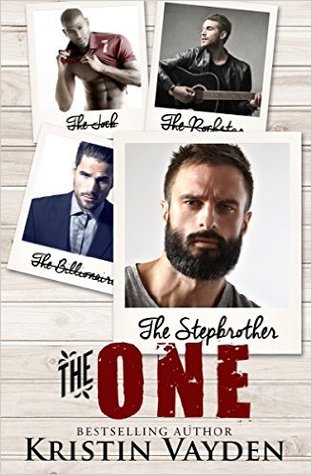 The One
Publisher: Blue Tulip Publishing
Publication Date: May 24th, 2016
Genre: New Adult, Contemporary Romance
My Rating:

Heat:

When your best friend is also your boss, 'great ideas' aren't always optional.
After all, when you run the largest fashion, gossip and trend blog in the country, you got to take risks to keep it edgy.
Believe me. This is edgy.
The idea? For one week, date every male fantasy.
The list?
The Jock
The Rock star
The Billionaire
The Stepbrother
See how they are all crossed off except one? That's because he's Satan.
And Scottish.
And my best friend's stepbrother.
And there may or may not have been an incident in Jr. high that he hasn't forgiven me for…but that's history.
Or so I hope, because I'm at his mercy for the next week…

What started out as a wonderful opportunity for the business turned out to be one of the most stressful projects in Meredith's life.
As a blogger/accountant/partner in Rox.com, a successful blog her best friend Roxi started, Meredith is in the unfortunate position of working for her best friend. Yes, she is a partner, but since Roxi is the main brains behind the blog, Roxi still has the final say. So, when Roxi suggested a new idea for the blog—one that could generated thousands of new readers and possibly more media exposure—Meredith is the one assigned to go through with it.
The idea: For one week, date every male fantasy—the jock, rock star, billionaire, and stepbrother. Sounds like a dream come true, doesn't it?
One by one, Meredith meets the dream men, and each dream gets completely shattered. Instead of meeting the men every women fantasized about, she meets obnoxious, delusional, and full-out dangerous creeps.
With only two men left to date, Meredith has little to no hope that the last two would outshine the others. She wanted to quit, but Roxi added in something that's hard to refuse—the last two dates will be in Scotland, the top country in Meredith's bucket list travel goals.
So off to Scotland she goes. Roxi said that "the stepbrother" stereotype will be the one to pick up Meredith, but little did Meredith know that the stepbrother was actually Kirby, Roxi's stepbrother. The worst part is, Kirby still hasn't forgiven her for what she did in junior high.
As you can see, this book has an interesting plot. The cover called to me, but the blurb completely won me over.
I liked this book, but it needs a few editing here and there. It bothered me that we never really found out what the incident in junior high was, and Meredith seemed to have flipped from hating Kirby to loving him in an instant.
I did enjoy the banter between the two, and Kirby is a sweetheart. He screams of virility, and that brogue of his is just dreamy (hey, I'm imagining Sam Heughan's accent so yes). I also enjoyed reading about Scotland and its sights. Not enough to want to try haggis, but enough to crave for tattie scones. Yum.
All in all, I enjoyed reading this book, and hopefully there will be a next one to give Roxi her happily every after, too.
Purchase your copy of The One